Kristen Knott will 'proudly' walk in Toronto fundraiser set for Sept. 6-7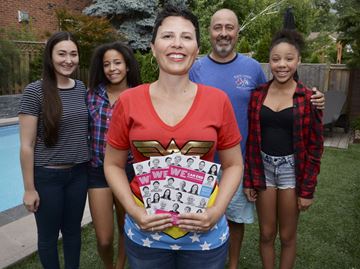 Weekend to End Women's Cancers helps Oakville mom fight
photo by Franki Ikeman – Oakville Beaver (Follow on Twitter @halton_photog or facebook.com/HaltonPhotog)
Oakville resident Kristen Knott (centre) is a breast cancer survivor and will be participating in the Shoppers Drug Mart Weekend to End Women's Cancers, Sept. 6-7 in Toronto. She attributes her win in the battle against cancer to the support she received from her family, especially daughters Eden and Zoe Phillip, husband Jon Lundy and his children Natasha and Joshua Lundy. Pictured at the family's Oakville home are from left, Natasha, Eden, Knott, Lundy and Zoe.
Oakville Beaver
When Oakville's Kristen Knott first participated in the Shoppers Drug Mart Weekend to End Women's Cancers in 2003, it was for her grandmothers.
This year, on Sept. 6-7, the 43-year-old wife, mother and breast cancer survivor will be doing it for herself.
"I think it's going to be incredibly emotional. I think I'm going to need some waterproof mascara for sure," she said, jokingly.
"Even when I talk about it, I get teared up. I'm going to be very proud wearing my survivor T-shirt."
Knott was diagnosed with breast cancer on June 6, 2013, and says although she was shocked, in the back of her mind, she had sensed something was wrong.
"I already knew I had 'fibroidy' breasts. I had been told that a year or two prior during my first mammogram. The doctor told me to keep an eye on that and be diligent in my self-examinations and so I was," she said.
When she had found what she first thought was a fibroid following Easter last year, she said it felt "a little different."
After going for a mammogram and ultrasound, Knott was called in the next day. A biopsy would confirm it was breast cancer — it would eventually be discovered she had three tumours in her right breast.
While the news was overwhelming, Knott admits part of her felt more concern for her husband, Jon Lundy, who had lost his first wife to cancer.
"My husband has been my rock, just emotionally and everything," she said. "I was very cognizant of the fact this is his second round going through this with someone he loves. It was very emotional for him too."
What would prove especially taxing for Knott was the fact she had volunteered to assist at one of her daughters' dance recital at the Oakville Centre for Performing Arts the day she was diagnosed.
Knott has two girls from her first marriage, Eden, 14, and Zoe Phillip, 12 — Lundy also has two children, Joshua, 21, and Natasha, 18.
"It was challenging, but maybe it was a blessing in disguise," Knott said of that day.
"That evening was tough. Here you are in a happy environment, all the energy and the buzz from the kids… I was on door duty, so, basically I could close the door, have a few moments to myself in the hall… I would start to tear up and then have to blot my face."
She says the support she received from her family has been nothing short of phenomenal with her mother coming over for a week after each of Knott's chemotherapy rounds to help out around the house and her and Lundy's children also pitching in.
Knott says there is no history of breast cancer in her family, though both of her grandmothers died of lung cancer.
After undergoing a right mastectomy and sentinel nod biopsy, six rounds of chemo, and opting for the removal her left breast as a precautionary measure, Knott is now in remission and has already begun the reconstructive process.
"I had a full body scan on July 5 and it showed no signs of breast cancer," she said. "I was speechless; very happy and relieved that it's not there. My biggest fear was that it would come back and I think that's the same with anybody with cancer."
Knott notes it was the Weekend to End Women's Cancers that helped her in her fight against the devastating disease.
"I knew when I was diagnosed, soon after, that was going to be the thing I would do, once I could," she said.
In fact, she signed up for the weekend fundraiser in August 2013 in the middle of her chemo treatments.
"It was something I needed — a goal to strive towards," Knott explained.
The annual Shoppers Drug Mart Weekend to End Women's Cancers benefits the Campbell Family Cancer Research Institute at the Princess Margaret Cancer Centre and is the largest women's cancers fundraiser in Ontario.
Those who participate in the two-day weekend event have the option to sign up for a 60-kilometre walk through Toronto, over two days, followed by one night of camping, or a 30-kilometre walk over one day and evening activities.
The event was also held in Montreal last weekend (Aug. 22-23).
Knott's team is called Wonder Women and is comprised of 10 participants, each raising a minimum of $2,000 with the overall goal of reaching $25,000 — Knott has already raised more than $3,000 towards the cause.
Anyone wishing to support Knott's team can visit http://goo.gl/DRdm4Y or visit www.endcancer.ca.
http://www.insidehalton.com/community-story/4800774-weekend-to-end-women-s-cancers-helps-oakville-mom-fight/ via @insidehalton